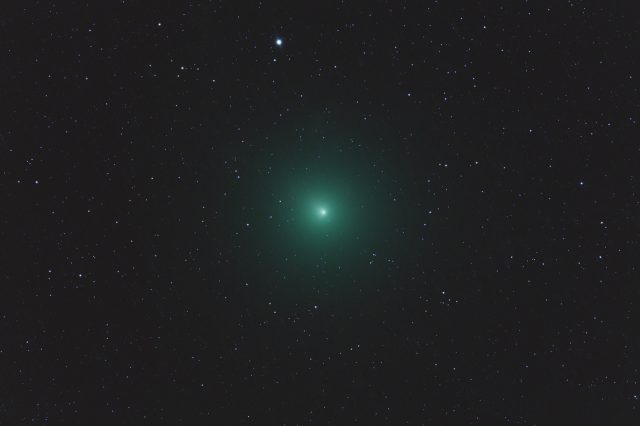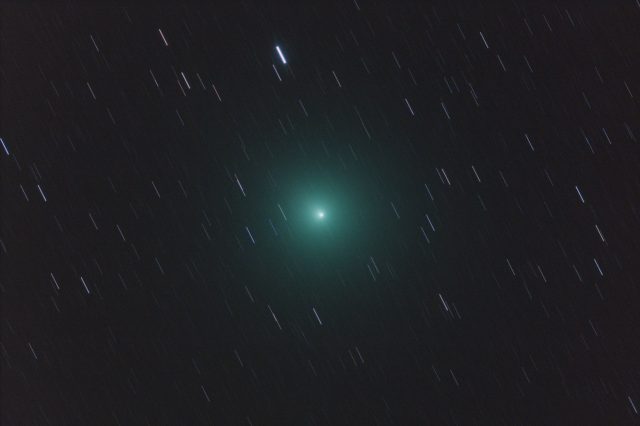 The first shots of the night of Dec 10, 2018 were some 30 second ISO 6400 sub-images of Comet 46P/Wirtanen and the last 4 shots were 5 minute subs at ISO 3200 of the same, but guided on the comet instead of the stars.  The first image above is a combination of the two sets.  The second image is just the 30 second subs alone in a star streaks rendition.
Before I could even start shooting, I had to take the mount apart in the field and unstick a stuck motor that was giving me lots of trouble.  I almost thought I would scratch and not get any shots of this naked eye comet.   Luckily, I had tools and was able to rectify the situation.
I had trouble seeing it naked eye at first, but as soon as it rose high enough out of the muck, I was able to spot it without optical aid.  I was at my Bortle 4/Green zone site and it was probably the clearest night so far this season.   So, conditions were exceptional and it was cold enough to use ISO 6400 without too much noise.
I still have two other sets of 1 minute, ISO 6400 subs and 1 minute ISO 3200 subs left to process.  These first two sets were the easiest to start creating images with.